If you want to know whether InstaForex gives you $1000 free money without any terms and conditions, hell no. you won't find a single broker that silly.
However, if you want to know if it's real to get some free money out of InstaForex bonus, the answer is kind of, but you have to follow its terms and conditions and meet some requirements.
How you can do that and what the terms and conditions you need to follow are what you'll read in this review which is based on the study I've done on the bonus, or as they call it: $1000 startup bonus, and its terms and conditions.
Instaforex can't accept clients from the US. They accept clients from European countries but according to European regulations, they do not provide any bonuses for their European clients.
See Other Brokers with No Deposit Bonus
I registered with InstaForex and received the 1000 no deposit bonus.
The process is so much easier than any other no deposit bounces I've tried so for.
They don't ask you anything but entering your account here and then, your account will be created. You'll receive login and password information so you can enter your cabinet and the 1000 bonus or credit will be automatically added to your account.
Although you aren't asked to provide any documents in the registration process, make sure to enter your correct ID information because you need to verify your account when you want to withdraw the profit you make from the bonus.
After the bonus is activated, you have 7 days to trade with $1000 credit and make as much profit as you can.
Then, you need to deposit an amount of money equal to the profit you've made otherwise your profit will be canceled and your account turns into a demo one.
As you can see, this is not a withdrawable bonus and you can't take $1000 out of your account right away but you can trade with that and rip the profit.
You can't withdraw the profit instantly yet and you need to meet the bonus conditions first.
This is where most of the naggings from the clients who've made profit comes from.
They haven't read the terms and conditions and don't know about the bonus rules so start calling a broker scam and shout and blame the broker in every place they can have a voice.
Guess what:
No one gives you free stuff unless you benefit them one way or another.
So you'd better know what turf you are going to play on so you won't jump out of your skin when you are told you can't have the profit.
Having said that, let's dig deeper and see what you can get from the 1000 bonus and how it can benefit you.
Note:

Scalping is not allowed for all the following bonuses. Scalping here means the positions that are closed below 5 minutes.

You can use trading robots or EAs and run them in bonus accounts.
Instaforex 1000Bonus Terms and Conditions
I'm not going to copy the entire clauses here. I'll explain the ones that are either necessary to know or there aren't explained and exemplified thoroughly — or at least I think that way.
This is based on my understanding of the conditions and the conversation I had with Instaforex customer service, so use them at your discretion.
In case you have doubts:
You can find the original version of Instaforex 1000bonus terms and conditions here.
Or you can contact them by yourself here
First off, as I said before, it's $1000credit and it's not withdrawable but the profit made by it can be withdrawn.
It's a startup or welcome bonus, so it's only available for new clients. If you are not a new client, they have other bonuses that we'll talk about them later in this review.
You only have 7 days to trade with the bonus and after that, you need to make a deposit up to the profit you've made, however, the minimum deposit is $100.
There is no limitation on how much profit you can earn. For example, it can be $100, $1000, $10000, or any other amount, however, less than $100 is not important regarding the above clause.
For example, you trade and make a profit of $500, so you need to deposit $500 to keep the $500 profit.
If you deposit less than that, let's say $300, the rest of your profit will be cleared and now $300 is your profit.
If you don't deposit any money within 7 days, you'll account and the profit you've made turned into a demo account.
When you deposit your account, your deposit amount goes under another InstaForex bonus conditions, 100% bonus but here instead of getting 100% of your deposit as a bonus, you receive 110%.
For example, you trade with 1000 no deposit bonus and gain $500, then they give you $550 as a bonus. Now you have $1050 in your account.
I talked with Instaforex customer service for I think an hour to see what is the difference between this bonus and 100% no deposit bonus other than an extra 10% but he kept beating around the bush and I couldn't get a correct answer.
So my undereating is that this is a 110% deposit bonus, and obviously it's not a no-deposit bonus. The only part related to no deposit is you don't need to deposit first, before making profit.
After receiving the bonus, you can't withdraw it and you need to trade and make profits, then you can withdraw the profit.
So what happens next when your account turns into 100% deposit account?
The first condition here is, when you gain profit, it's distributed between your deposited money and the bonus amount proportionally.
HOLY MOLY
I know!
WE NEED EXAMPPPPLE!
Ok, let's say you trade with 1000bonus and make a $500 profit. Then you inject $500 to your account. Then you receive $550 as the bonus.
Then you trade with this $1050 account and make another $500 profit. roughly 48% gets to your deposited money ($500) and 52% belongs to the $550 bonus. Therefore, around $240 is the profit of your own money and $260 is for the bonus profit.
Why do they do that?
Yours is yours but theirs is not gonna become yours easily. It's a matter of give-and-take. You have to try more to get that.
How?
For releasing $810 profit that you've made in total ($550 from the 110% bonus and $260 profit from the $550 bonus) you have to trade a specific number of lots.
What is that?
Your profit * 3 = instaforex lots
For the $550 bonus, you need to trade 1650 InstaForex lots (or 165 lots)
For $260 profit you've made from the $550 bonus, you need to trade 780 Instaforex lots (78 lots)
In other words:
For every $10, you need to trade 3 standard lots
---
You can withdraw the other $740 (your $500 deposit plus the $240 profit) but if you withdraw any proportions of this money, your upcoming profits will be distributed proportionally.
For example, you withdraw $250.
Now you have $1300 in your account. $490 is your money(740-250) and $810 is the sum of the bonus and profit of the bonus. The ratio of your money to the sum is approximately 0.6 to 1 (490/810).
Let's say you trade and gain another $1000. According to the above proportion, $625 is related to the bonus and goes by the rules of the 100% bonus and $375 belongs to your own money.
Another term related to this part is that if your account equity or balance goes under the bounce amount, the remaining money in your account must follow the terms and conditions of the bonus. In other words, your account is converted to a bonus account.
For example, you trade with the 1000bonus and earn $500. Then you deposit $500 and your account becomes $1050 after 110% and goes under the condition of 100%bonus.
Then you trade and lose $551. The remaining money is less than the bonus ($550) so your deposited money ($500) which is now $499 is a bonus now. It means you have to follow the lot size rule to be able to withdraw any money.
In this case, you have to trade 1497 Instaforex lots or 149.7 lots (499*3) in order to withdraw any money from this account.
That makes sense because you've lost your money and now you only have the bonus to trade.
The last condition is, you can only trade currency pairs (forex). However, it's only in the 100% bonus agreement but I haven't seen such a clause in the 1000bonus and when I asked customer service, I couldn't get a solid answer.
I think no one has ever bombarded them with these kinds of questions on details.
First I thought they know the answers but refuse to reply.
But after a few minutes, I figured out that they don't really know some of the details because they really tried to pull links out of every nook and cranny of the website to help me but they weren't the answer I was looking for.
Anyway, if you can find another answer for that, follow it otherwise trade forex.
I think forex instruments of InstaForex is more than you need because, besides major and minor currency pairs, they have a variety of exotic pairs so you wouldn't be lacking tradable products.
Oh, one more thing:
Make sure not to have any open positions before depositing in your account after 7 days. Obviously, If you have open trades, they can't calculate the profit.
STOP TALKING ABOUT ALL THE FREAKING CONDITIONS
Just tell me, is it worth trading with InstaForex 1000bonus?
It depends.
Cooome on! Are you going to write another long-winded set of terms and conditions?
Actually no, the conditions were almost what I wrote, at least the most important ones. If you want to read all of them, you can use the link at the beginning of this section.
The answer to the question is, it's beneficial for two purposes:
First, if you have the money to deposit but you are not sure yet, you can use the bonus to test the broker first to see the performance of the broker.
Then either open a new account and make your deposit and start without any bonuses.
Or if you've made a meaningful profit regarding the deposit you want to make, replenish the bonus account and provide more profitable trading conditions for yourself.
Second, if you have a small amount of money to trade but you've learned how to trade and you know you can make money through trading. So, you have a chance here to prove it and build your account by adding 110% to your own money in the first place.
Third, you've been practicing with demo accounts for a while and now you think it's time to give a live account a try but you're not confident enough to do it with your own money.
Here you have a chance to experience real trading without spending a dime. Maybe you can make some profit and have a chubbier account to trade.
If you didn't like this bonus for any reason, you can find more brokers with no deposit bonuses here.
Now that we've learned all the things about InstaForex $1000no deposit bonus, let's take a look at other bonuses they offer because this broker is one of the few ones that have a diversity of bonuses.
100% BONUS
In this type of bonus, you'll receive 100% of your deposit as a bonus.
As you can see, unlike the 1000bonus, this one is a deposit bonus.
The bonus itself is not withdrawable but you can withdraw the profit made by it without any limitation.
For instance, there is no need to trade a number of lots, as there was in the 1000 bonus, in order to withdraw the profit.
Another thing that is different is:
It's not necessary to be a new client to be eligible for this kind of bonus.
If you have an account with them, you still can apply for 100% bonus providing that you open a new account and deposit in it.
The amount that you can deposit is unlimited but the conditions become different for more than $2000.
Up to $2000, you'll receive 100% bonus. For example, if you deposit $2000, you get another $2000.
But what if you deposit more than $2000?
Between $2000 and $5000, you get 100% for $2000 and 50% for the remaining amount.
For instance, if you deposit $3000, you'll get $2500 — $2000 for the $2000 deposit and $500 for the reaming amount which is $1000.
For more than $5000 deposit, you'll receive 30%.
If you deposit $6200, you'll get $3900 as the bonus — $2000(100%) for $2000 deposit, $1500 (50$) for $3000, and $400 (30%) for $1200.
And the last clause is, you can't combine this bonus with any other bounces — it's not compatible.
The required lot and other rules are the ones we talked about in the 1000bonus.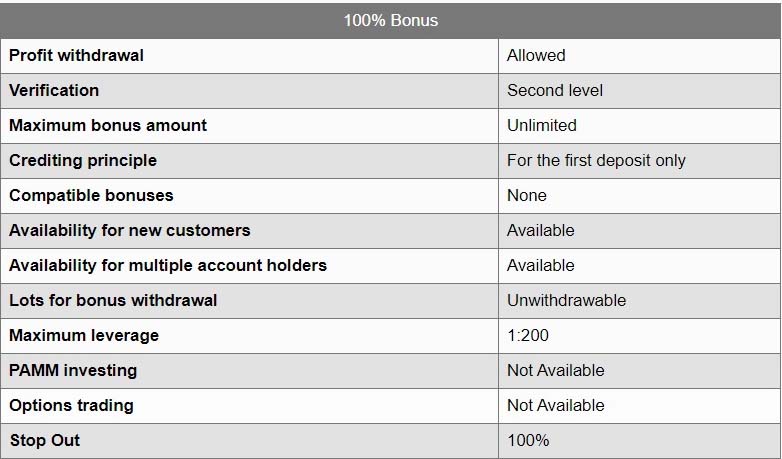 55% Bonus
As the name implies, you'll receive 55% of your deposit — so it's a deposit bonus.
You deposit $100, you'll get $55.
When you register and request for the bonus, you have 7 days to deposit in order to get the bonus.
There is no limitation on the number of times you can get this bonus but for every time you want it, you have to open a new account and deposit some money, then you can receive 55% for that.
Unlike the other two bounces that we talked about before, here you are going to trade in order to release the bonus itself, not the profit made from.
So the bonus itself is withdrawable but of course, under some conditions and like 100%, there is no limitation on withdrawing the profit of bonus.
For releasing the bonus, you have to trade a specific amount of lots according to this formula:
Your received bonus * 6 = Instaforex lots
So if you deposit $100 and get $55 as the bonus, you can withdraw your money or profits made from $155 but you have to trade 330 Instaforex lots (or 33 standard lots) in order to be able to withdraw the $55 bonus.
This is the case when you didn't get any bounces before and this is the first time you receive a bonus.
If you've received other bounces before but you couldn't meet the conditions for the required lot; for example, you lost the previous bonus, the remaining lots will be added to the new bonus condition.
Let's say you deposited $100 before and got $55. After trading 200 lots, you below the account.
Then you decided to open a new account and get another 55% bonus.
In this case, for releasing your bonus you have to trade 460 InstaForex lots (46 lots) — 330 lots for a new bonus and 130 lots for the reaming lots from the previous bonus.
Another condition is for when the bonus is more than $2000 (for example you deposit $4000 and receive $2200 as the bonus). In this case, if more than 10% of your trades are opened with 1 instaforex lot (0.1 lot), your bonus will be cut in half — in the example above, you receive $1100 instead of $2200.
When the bonus is over $10000, one-third of the bonus is given to you if you trade with 0.1 lot (1 instaforex lot) more than 10%.
The" one third" part is my understanding though.
The clause is not clear enough. This is the clause related to that:
In case the bonus amount is over $10,000 and over 10% of trades are of less than 0.1 market lot (1 InstaForex lot, i.e. 1 pip is approximately equal to $1), the bonus can be reduced to $3,000.
So you may receive $20000 at first and after breaking the 10% term, they reduce that to $3000.
And the last clause is, you can't combine this bonus with any other bounces — it's not compatible.
30% Bonus
The terms and conditions of this bonus are exactly like 55% with two differences:
First, replace 55% with 30% in 55% conditions.
Second, in the formula for the calculation of lots, 6 is replaced with 3.
Your received bonus * 6
 

You can combine this bonus with Club bonus which is the next bonus we're going to take a look at.
Club Bonus
This is the bonus that both new and existing clients of Instaforex can benefit from.
When you request this bonus, it's credited to your account based on the difference between your deposit and withdrawal regarding the following calculation.
1% of the surplus if it is < $500
2% of the surplus if it is < $500-1,000
3% of the surplus if it is < $1,000-1,500
4% of the surplus if it is < $1,500-2,500
5% of the surplus if it is < $2,500-5,000
6% of the surplus if it is < $5,000-7,500
7% of the surplus if it is < $7,500-10,000
8% of the surplus if it is < $10,000-13,000
9% of the surplus if it is < $13,000-15,000
10% of the surplus if it is < $15,000 or more
Example:
You deposit $5000 and trade with the account. Then you withdraw $1000.
Now the difference between deposit and withdrawal is $4000.
According to the above calculation, you receive 5% of the difference as a bonus which is $200 — 5% of $4000.
The formula for releasing the bonus is:
Your received bonus * 3
In the mentioned example, you have to trade 600 Instaforex lots (60 lots) to release $200.
As we said before, you can combine this bonus with 30% bonus and use them at the same time.
The Bottom Line
Instaforex 1000 no deposit bonus, or $1000 startup bonus, is not fake in a way that they don't charge your account with 1000, but as we saw in this review, it's not real money but it's a credit that you can make a profit over it and after that, you have to make a deposit.
You need to know and follow some terms and conditions to release the profit and make it your own money.
If you are a profitable trader, it can be a good opportunity to trade with a larger account and build up your account faster, however, you need to read the conditions first because, according to the conditions of all the Instaforex bonuses, they have the absolute right to cancel them if they suspect any fraud.
They declare that they may make a mistake in detecting fraudulence because not all cheatings are discernible for them and on these kinds of occasions, they have the right to make any calls at their own discretion, however, they claim that it only may happen in 10% of the times.
If you want to have more advantages, you can use one of the various deposit bonuses that Instaforex offers.
I tried to make them clear to some extent so you can have a broader knowledge if/when you decide to apply for them.
If you've had any experience with any of the mentioned bounces or have any points of view, feel free to drop a comment under this post.