These are the best ways that you can backtest a Forex trading strategy manually:
1- F 12
MT4 strategy tester
TradingView
FXBlue Simulator
Soft4fx Forex Simulator
Forex Tester
In this article, you'll see how to backtest a forex strategy using those methods.
We are also going to see which one of those methods is the best way to manually backtest a forex trading strategy.
Spoiler:
The best way to backtest a forex trading strategy is Forex tester, however, you can use Soft4fx forex simulator if you want to pay less.
Why are they the best ways?
To answer this question, you should read this post, however, you can find the difference between the methods in the table at the end of this post.
Intro
Backtesting a trading strategy in Forex or any other type of market is vital if you want to have a profitable strategy or if you want to optimize your strategy to gain better results. Sometimes your strategy is performed without any EAs or trading robots so you need to take a manual approach, however, doing all the backtesting completely manually is very hard so we can do that with the help of some softwares and simulators.
No matter what kind of trading strategy you use, you have to backtest that in one way or the other before you implement it in real time or in your real account, otherwise, you'll probably get into trouble and come across situations that you are not familiar with. You won't have enough confidence to take action where you should because you don't know your strategy well enough.
There are various ways that you can backtest a trading strategy. Some are free which takes more arduous actions to take and take more time to get to the results. Others cost you some money but it makes your trading life easier.
I'll explain and try to show both approaches to the best of my knowledge and then, it's up to you to make the call and find one that suits you. But first, let's take a look at some questions in case some of you may be unfamiliar with this concept.
What is backtesting a trading strategy?
Backtesting is the process of testing, examining, and analyzing your strategy based on historical data. What it means is you need to go through the past price information of any currency pairs, stocks, etc. you want to backtest to find out how price reacted to your tools or method in particular and your whole strategy in general — taken orders, money management, win, lose, etc.
By bactesting, you want to find out if your strategy is a winner or losing one at first. Then based on the information you've gathered, you see the weakness or strength of the strategy and if there is any place for improvement or optimization
What is reliable backtesting?
Reliable backtesting is the one without bias. The most well-known type of bias is look ahead bias when you can see the rest of the chart so you have a bias towards your analyses and trades.
I can remember my early trading days when I was trying to find a strategy. I worked so hard to find the Holy Grail. Every now and then, I thought I had discovered something so I tried to so-called backtest that. I scrolled back the chart and tried to find setups. The problem was I could see the future of the chart so I found the ones that had my expected results.
For example, let's say you have a trend following strategy so you look for trends first and then you try to find your setup in that trend. When you see the whole picture and the future of the chart, it's not brain surgery to find them. They can be easily found and if you can't find them, either you are in the first week of discovering the trading world or you should put on your glasses.
The problem starts when you can't see the rest of the chart so instead of entering a trend to find setups, you are analyzing a correction or a range part of a move, not a trend.
This was the problem I used to encounter in my early trading days. I became filled with adrenalin because I thought I'd discovered something that I backtested and it'd worked. Then I forward tested that and it didn't work or at least not the way I expected.
Therefore, when you backtest a strategy it's really necessary not to see the future of the chart so you remain unbiased towards the chart's future.
Best Ways to backtest Forex Strategies Manually
Here's the list of the best ways for backtesting a forex trading strategy along with a complete tutorial for every one of them.
Some of them are completely free while you need to buy others. With free versions, you can do basic backtesting but if you want to do professional backtesting with more reliable results, you may consider paid ones.
If you've just started backtesting or want to test out a new strategy, you can go with the free versions at first and when you see some promising results, you can shift to more professional versions.
1- Using F12 To Backtest On Metatrader
The simplest way is to use F12 on your keyboard. When you press F12, it shifts the chart forward one candle by one candle. If you press shift+F12, it shifts back. The steps are:
1- Open the chart you want to backtest on.
2- Scroll back to the point where you want to backtest from.
3- Make sure that the chart is not on autoscroll, otherwise, it jumps to the end of the chart with each tick of price
4- Press F12 to see the next candle
You can watch this video to see how it works:
This is the most rudimentary way to do backtesting. This version of backtesting is really annoying and also exhausting, plus you can't eliminate look-ahead bias completely especially if your strategy is based on multi-timeframe analysis so you need to change the timeframe in order to analyze them.
When you go to the higher timeframe you see the rest of the chart and it affects your decision intentionally, however, there is a hack for that. You can open other charts in different timeframes and whenever needed change the tab to another timeframe and do your analysis there, then get back to the main chart.
Moreover, you need to record all the information trade by trade manually. It's might not be a big deal when you do it for a few trades but it's crazy when there are hundreds of them. Gathering information is daunting alone and then you have to calculate them which is almost impossible for lots of trade, however, I've written a post about using excel to help you for this purpose.
There are positives and negatives for this backtesting method.
Cons
It's time-consuming
The possibility of skewed results as a result of look-ahead bias
Not good for multi-chart analysis
You can't place orders
There is no fundamental information such as economic calendar etc.
Lack of an automatically generated report (because you can't place orders, everything has to be done manually)
I couldn't think of any other advantages other than being free.
---
2- Using MT4 Strategy Tester for Manual Backtest
This one is somehow better than the F12 method. It's faster and the results can be less skewed.
For Backtesting on MT4 strategy tester follow these steps:
On MT4 navigation bar find view and then click on strategy tester
From Symbol on strategy tester, select the symbol you want to test.
From Period drop-down tab, select the timeframe you want to backtest in.
From Model section, select Control points
Select Use date and determine the period in which you want to backtest
Select Visual mode (under Used date) so you can control the speed of backtesting. (if you can't see Visual mode, widen the strategy tester window by dragging its top side up.
Press start button
You can control the speed by visual mode and stop the backtesting whenever needed.
If you've just installed MT4, there probably isn't enough data for backtesting so you can import that from: MT4 navigation bar → tools → history center, and then select the symbol and hit Import.
Before we get to the cons and pros, you can watch this video if you had any problems with the mentioned steps.
As you can see, you can speed up backtesting and make it much faster than the F12 method. Besides, you can't see the future candles at all so you can pause and zoom in and out in case you want to analyze the chart from different angels or even timeframes to some extent.
Unfortunately, other problems still exist so it's still irritating, plus you may have another problem which is related to data.
First off, depending on how much historical data your broker offers, you have some limitation on this factor which means you access to the limited amount of historical data. Therefore, the historical data is probably not enough for a reliable backtesting so you will probably have problems with finding enough setups to be backtested.
Secondly, the historical data that MT4 gives you to backtest via strategy tester is not completely accurate and is different from real data. Although it might not a big deal if you use higher timeframes, it may affect your result if you backtest in lower timeframes especially M1 and M5.
Let's take a look at the advantages and disadvantages of this one.
Pros
It's free
It's not completely manual
It's faster than the F12 method
Cons
It's still time-consuming
There aren't any options for multi-timeframe backtesting other than the simple hack we explained in the previous method
You can't place orders
Lack of fundamental information
There is no automatic report generator — statistics
Lack of information, and inaccuracy in data
---
3- Backtesting on TradingView
Tradingview is a charting service and has a big community of traders who share their trading ideas every day. You can find trading ideas and analysis for almost every trading method. We are not going to talk about different features or every aspect of tradingview here but there is a backtesting tool in there that you can use for backtesting, however, there is a big disadvantage for that which is lack of enough data.
Of course, you can buy data if you want to use its paid plans. We'll talk about that in the Backtesting on Trading View Free and Paid Plans.
But first, let's see how you can start using TradingView.
You don't need to download any software from there because charting in tradingview is done directly from the website. it has a free version and several paid tiers. Registration is free and for backtesting you have to register first.
How to Register and Open A New Chart On TradingView

For registering and opening a new chart follow these steps.
First, go to this address:
2- From the top right, press join for free and then register.
3- In the ticker bar, write the name of the currency, stock, etc. you want to see its chart.
If you want to see a currency pair, just write the first part, EUR for EUR/USD, and then choose the currency pair from the drop-down menu.
4- On the next page, find full-featured chart from the right side of the page to be directed to the chart.
You can see a video at the end of this section to be familiar with the basics and see how you can backtest on Tradingview charts but before that, you should know some differences between free and paid versions.
Backtesting on Trading View Free and Paid Plans
First off, using the free version to backtest is not really practical and you'd better use MT4 if the MT4 is your trading platform because not only there is no difference between MT4 and tradingview free version but also MT4 is better to some extent.
In the free version, there is not enough data and at best you can get data for 5000 bars or candles in only daily, weekly, and monthly timeframes. For some currency pairs or ticker symbols, it's even less than 5000 bars.
And this is another downside of the free version. You can't backtest in lower than daily timeframes.
Although the amount of data doesn't change for paid version dramatically and you get 10000 candles, if you decide to subscribe to the paid plans, you can buy historical data and use it for backtesting which is an additional fee to the subscription plans.
The big problem is, even if you use paid versions and buy historical data as well, you still don't have a good backtesting tool.
You can't place orders and set take profit or stop loss. Consequently, you won't have automatic statistics or reports. You still need to do all those things manually or with an Excel spreadsheet at best.
With that being said, backtesting on tradingview is somehow useless, however, you can use the paid plans for 30 days. They have a 30-day trial, so you can try it and see if it suits your needs.
The first plan in the paid version is not expensive at all and after the trial, you can start with only $12.95 per month if you find the whole service useful
As long as the subscription fee is not just for backtesting and a range of services come with it, there might be some other aspects in there that you may decide to use it. For example, you can have access to a variety of educational videos, live trading, private chat and many more. Plus, it's a huge trading community that you can benefit from.
Another interesting service that they offer is market data. You can buy the data of different countries' stock market at a reasonable price. If you decide to trade Spain or Germany or any other counties' stock you can have the data at a low price per month and in some cases for free.
But the coolest one I think is Screener. I've written about that in this post.
When I started forex way back, if someone had told me you could filter between more than 1800 currency pairs and find just a Doji, it'd have blown my mind. We didn't even have more than a handful of pairs.
Guess what, TradingView scanner feature lets you filter more than 1800 forex pairs by hundreds of technical combinations from lots of indicators to all candlestick patterns.
If you want to see all those features as well as a comparison table between free and paid versions, check this page in Tradingview.
If you want to know how to backtest using Tradingview, watch this video. The tradingview section starts at 8:18.
---
4- FXBlue Trading Simulator V3
The next option for backtesting a forex strategy manually is FXBlue simulator. Fxblue is a website that provides various services to forex traders including some free tools. One of them is an add-on that is installed on the MT4 and simulates charts.
For downloading the FXBlue simulator, go to FX Blue Trading Simulator v3 for MT4 or for MT5 click on free download.
I'll explain the process for MT4 but it's the same for MT5
If you already have an account on FXBlue, enter your username and password otherwise register from the "new user" section.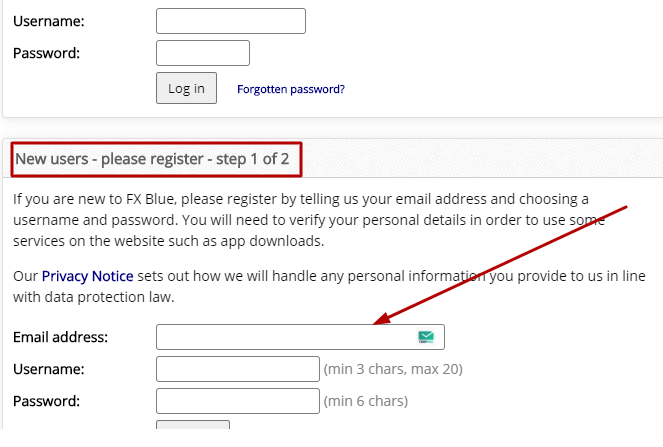 Two file are downloaded. One of them is the simulator and the other one is a PDF explaining the different features of the simulator as well as the instruction for running it.
When you double click on the simulator it automatically detects all the MT4s installed on your device. You can choose any of them that you want the simulator to be installed on, or select all of them if you want to have it on all of your MT4. (If you only have one MT4 on your device, you see just one option)
There are several differences between this simulator with the previous methods but the main one is that you can open positions by clicking buy or sell button, just like demo/real accounts. Plus, the results are recorded on FXBlue so you have a complete statistical result for analysis.
To become familiar with the different parts of FXBlue simulator as well as see how you can set it up, you can watch the previous video. The section related to FXBlue simulator starts at 18:00.
---
5- Using Soft4fx Forex Simulator for Backtesting
This one is similar to FXBlue but with more features and higher quality. Soft4fx Forex simulator is not a separate software but it's an add-on that you can use on MT4 and it turns MT4 into a fully functional tool for backtesting. Because it's an EA, you can't use it for automatic trading so it's particularly built for manual backtesting.
Unlike its name, it's not just for currencies and you can trade any types of CFDs that your broker or soft4fx support.
Soft4fx Features
As far as it's an add-on for Metatrader 4, you can access to all the tools and indicators of MT4 and analyze your chart as you do normally, plus, it has a feature that you can analyze the market fundamentally as well.
The news feature opens an economic calendar that shows all the news happened at the time of backtesting. You can see the news based on their importance as you see in any live calendar. Even if you are not analyzing based on the news, you should be aware of important news and you may not trade during those times.
On the other hand, you may have a strategy that analyzes the market technically but it shows you the entry point for the news release time.
Either way, news can have an impact on your decisions in the real trading; therefore, having a calendar simulating the exact condition and showing the real news at the time of their releases can be awesome.
Another cool feature is Session. As the chart is moving you can see what session you are trading at. Some traders use a specific session for trading and having this feature can simulate the trading condition more realistically.
Unlike the free methods, you can open positions here, set take profit and stop loss, place pending orders, having multiple chart for analysis, and all the things that you can do and use on MT4 while trading.
Moreover, you have additional features such as setting your stop loss according to the risk you want to tolerate for each position. For example, you can set a 2% risk for each position and it sets the relevant stop loss regarding your equity, something you need to do manually in MT4. Although there are custom scripts for this purpose for MT4, on forex simulator it's more functional and easy to use.
You can also see a complete report of the backtesting that shows all the important factors you need to pay attention to after backtesting so that you can optimize your strategy or even change it if it doesn't work at all — something like strategy tester report when you backtest an EA.
Accessing high-quality data and variable spreads are among other features that make backtesting more reliable. We talked about data accuracy to some extent before but spread is another factor that can simulate the trading closer to real condition.
When you use forex simulator, you can get variable spread as you get in real trading condition. When the broker is STP or ECN STP or anything they call it, you don't have fixed spreads and the spreads changes regarding the market condition.
Here you can have the same condition by not having a fixed spread, however, there is an option you can choose fixed spread, in case your broker is DD and you have fixed spread while trading with your broker.
Multi-timeframe analysis is another feature that you can take advantage of When using forex simulator.
As I mentioned earlier, you'll have a problem with having different timeframes when you backtest using MT4 strategy tester or the F12 version. Guess what? You won't have such a problem here.
You can open as many charts as you want from 1min chart to monthly or even custom timeframes such as 3 min, 5H, 3 D, etc. and analyze them as you are doing backtesting. You can also open positions on any timeframes.
Oh, one more thing that I just remember. You can backtest several ticker symbols at the same time as you trade in real or demo accounts. For example, you can have positions on EUR/USD, USD/JPY, XAU/USD, AAPL, etc. at the same time.
This is the list of some features of forex simulator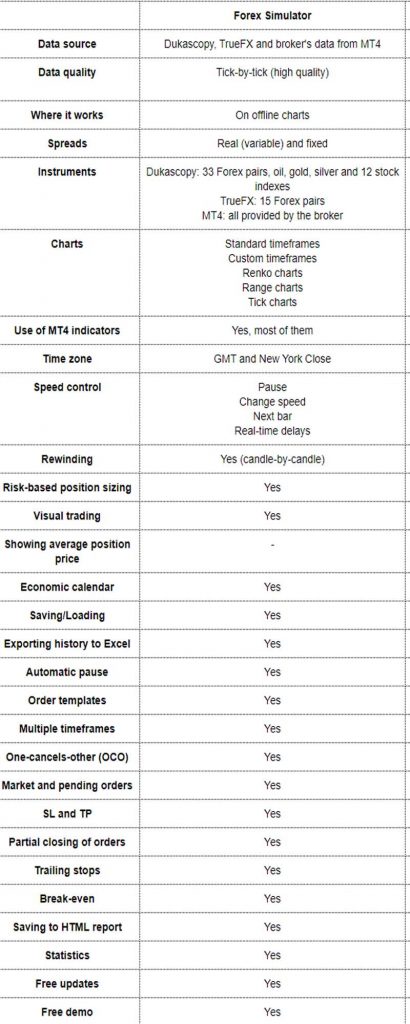 Download for Free Version or Buy
Before you buy it, you can download a free version. The free or demo version is almost like the paid version but you can only take 5 positions per simulation session so it's just for being familiar with the functions of the tool and gives you an overview of how you can backtest via soft4fx simulator.
You can download the demo version from here
You can watch the following video to be familiar with the basics of trading by soft4fx forex simulator.
You can also find more tutorial videos in the tutorial section. There are a variety of tutorial videos from the installation to the different aspects of the simulator.
If you decide to buy the simulator, you just pay $99 for a lifetime license. I think if you are serious about trading and want to build a reliable trading strategy, spending that money is almost nothing compared to the time you'll save. You can backtest years of demo or live trading in one or two weeks considering you do it meticulously.
---
The Difference Between Soft4FX and FXBlue Simulator
As you saw both fxblue and soft4fx simulators are add-ons that are installed on Metatrader platform and they work pretty much the same, however, since the fxblue simulator is free, it has fewer options than soft4fx.
I appreciate that FXBlue provides such a simulator for free and I think it's the best option when you want to start backtesting a new strategy, however, if you see some promising results, you should consider using a more professional simulator with a higher quality of data.
I personally found soft4fx way more comfortable and easier to use, maybe because I use multi-timeframe for my strategies and backtesting, and FXBlue isn't tailored for backtesting such strategies.
I found some other differences that you can see in the following table.
(Some soft4fx features aren't included in its demo version)
| | |
| --- | --- |
| Soft4FX | FXBlue |
| Access to real data (not available for demo) | NO |
| Access to live news (not available for demo) | NO |
| Include market sessions (not available for demo) | MT4 Custom indicator |
| Floating spreads (not available for demo) | Fixed Spread |
| Better and wider speed control | |
| Adding extra charts when backtesting | You have to do it in the first place |
| Objects such as TL appear on all timeframes | When you draw an object, it's only on that timeframe |
| Open trades on several pairs at the same time | You can only open trade on one pair |
---
6- Forex Tester Backtesting Software
Forex tester 4 is the most complete tool you can find for backtesting Forex trading strategies and suitable for the traders who want to do professional backtesting on a functional well-designed software. It's not a plug-in or add-on for MT4. Instead, it's a separate software that looks like MT4 very much but it has some additional features.
Forex Tester 4 Features and Comparison to Soft4fx
Forex tester 4 has all the functionalities of soft4fx plus some additional functions.
Unlike soft4fx, forex tester is a software so not only can you use it for manual backtesting, but it's also designed for using expert advisers or automatic backtesting.
If you don't plan to code your strategy entirely but you may be thinking of coding some parts of the strategy, you can use scripts and EAs for semi-manual backtesting. For example, you can write a script or an EA that does some tasks as you backtest manually.
Another difference is that forex tester has additional tools such as poly line that you can use for drawing different patterns such as double top/bottom or wave symbol that makes numbering Eliot waves easier. There are also more indicators compared to MT4.
The next difference is the easiness and arrangement. Soft4fx is a very practical tool but everything gets messy when you want to use it. Maybe I'm getting picky here but when you on soft4fx, you should open each tab separately and then if you want to keep them open, your chart becomes cluttered. You have to open the news tab to see what the next one is. You also need to open the timeframes you want in the first place and before the test starts.
On the other hand, all those features are designed and organized in the forex tester 4 software. It's more user-friendly. You don't need to open tabs to see things because they are already opened and set in their places, no extra messy tabs. You can see the news right in front of you. Even the importance of the news is indicated by colors as you see in the news calendar. All in all, everything is neater and more organized.
The analyzing report is the feature which is the ultimate goal of backtesting. You need that to know the weakness and strength of your strategy or to see if a strategy is profitable. In a complete manual backtesting, you need to write all these things down and do the math for every one of them which is too hard. I know because I did that way before. You get exhausted after a while and won't continue. Even with the help of Excel, it's still time-consuming.
This is the list of factors that forex tester gathers and analyzes.
Another advantage that forex tester 4 has compared to soft4fx is the amount of data they offer for backtesting.
Forex tester comes with 18 years of historical data from 12 different brokers. This is 10 years from 2 brokers for soft4fx simulator, however, you can use as much historical data as your broker provides on both of them.
Although using broker data can be an option, it's not a good idea to do so because it's not accurate enough so you'd better stick to the data the backtesting tools offer.
Forex tester 4 Price

The most important advantage of soft4fx compared to forex tester is its price. For soft4fx you have to pay $99 for a lifetime license but for forex tester 4, a lifetime license is from $199 to $598 depending on the historical data you get.
For more information about the different packages and price of forex tester 4, check the below page:
Forex Tester 4 Free and Paid Version
If you want to be more familiar with the forex tester 4 and see if it suits your needs, there is a free or demo version that you can download first.
Obviously there are differences between free and paid versions. On demo versions, you just have one-month data to backtest. Needless to say, it's not even close to what you need for reliable backtesting so it's just for being familiar with the whole picture and the functionality of this simulator.
You can see the main differences in the following table.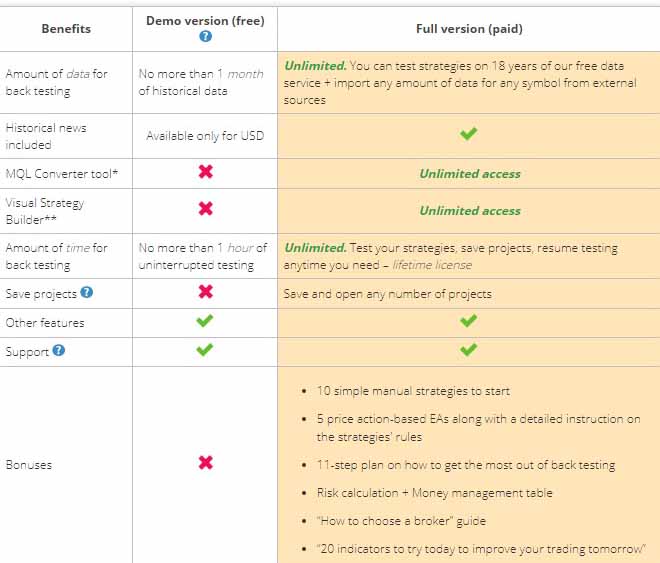 For downloading the free trial go to this page:
You can go to the below page if you want to buy it
If you want to see an overview of Forex Tester 4, watch the following video. It's a quick tutorial on how everything works on this simulator.
You can find more videos from downloading and installation to using different features in the link below.
Forex Manual Backtest Methods Comparison
Ok, now let's compare all the methods we can use for manual backtesting on the table below. (If you use a cellphone, scroll left/right to see the rest of the table)
Feature
Forex Tester 4 Free
Forex Tester 4 Paid
Soft4fx Free
Soft4fx Paid
FXBlue Simulator
TradingView Free
TradingView Paid
MT4 Strategy Tester
F12
Tools & Indicators

MT4&
More

MT4&
More

MT4

MT4

MT4/MT5
Custom Built

Custom Built

MT4

MT4

Economic Calendar

Yes

Yes

Yes

Yes

No
Yes

Yes

No

No

Place Orders


Yes


Yes


Yes


Yes


Yes
No


No


No


No


Number of Orders

∞

∞

5

∞

∞
-

-

-

-

Data

One Month

18 Years

10 Years

10 Years

Your Broker
5000 Candles

10000 Candles

Your Broker

Your Broker

Data Accuracy


High


High


High


High


Low
High


High

Low


Low


Timeframe

Standard & Custom

Standard & Custom

Standard & Custom

Standard & Custom

Standard MT4/MT5
D,W,M

Standard & Custom

Standard MT4

Standard MT4

Session

Yes

Yes

Yes

Yes

Custom Indicator
Yes

Yes

Custom Indicator

Custom Indicator

Spread


Variable


Variable


Variable


Variable


Fixed
Fixed


Fixed

Fixed


Fixed


Compatibility

Windows, Mac (Wine)
Windows, Mac (Wine)
Windows, Mac (Wine)
Windows, Mac (Wine)
Windows, Mac (Wine)*
Web Based

Web Based

Windows, Mac (Wine)
Windows, Mac (Wine)*
Report/Statistics


Yes


Yes


Yes


Yes


Yes
No


No


No


No


Robot Tester


Yes


Yes


No


No


No
Yes


Yes


Yes


Yes


Price

Free

free trial

$149 to $598

Purchase Page
Free

Download Demo
$109 Lifetime

Purchase

Free
Free

Join now
$12.95 to $49.95 Per Month + Buy Data
Free

Free

*Wine is a free software that allows MAC users to use Windows software — alternatively, you can use Windows VPS on your MAC device.
The Bottom Line
If you are really serious about trading, you should have a solid strategy that has been backtested meticulously. Although you can backtest in a demo account, it's very time-consuming and takes you maybe years to backtest it reliably.
Moreover, you may not be able to trade with a demo account at the sessions you want because you either have a daily job or you're asleep or any other reasons.
Do not think of burning your money by opening a real account before you have a well-defined strategy which is tested thoroughly.
You can take any approach you want for testing a strategy. It's up to you whether examining it in a demo account for months and months or using a backtesting tool to help you do this faster. Either way, you shouldn't open a real account unless you are fully confident about your strategy and aware of upsides and downsides of it.
Using a backtesting tool or software can save money and time. You may pay a couple of dollars by buying them but you've saved a lot of money and time instead.
However, you can start with the free versions or trial ones to get a good grasp of backtesting, and then if you find them useful, you can buy the paid version.
if for any reasons you decide to take the free approach and do everything manually, you can check the excel post that I talked about earlier.
What are the best backtesting methods in forex?
Using Forex tester and Soft4fx are the best ways of backtesting in forex
What are the differences between backtesting methods?
Accuracy of data, available data, Availability of features such as placing orders, multi-timeframe feature, generating statistics and report, economic calendar, trading session, and variable spreads
What is reliable backtesting?
Reliable backtesting is the one without bias. The most well-known type of bias is look ahead bias when you can see the rest of the chart so you have a bias towards your analyses and trades.